Free Research Snapshot: Understand the Tech-Involved LOB and IT Decision-Maker Relationship and Improve Your Marketing Strategy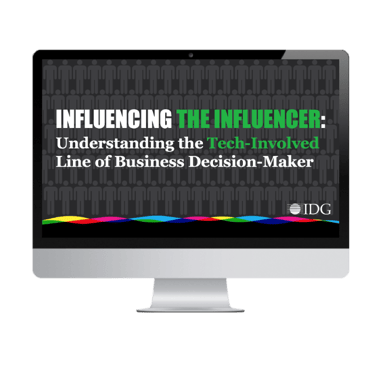 IDG's global study explores the role of Tech-Involved Line of Business (LOB) in the purchase of IT products and services.
Technology purchasing has changed. IT and Tech-Involved LOB are now making IT purchase decisions together. 77% of IT decision-makers collaborate with LOB on a regular basis. This changing dynamic means tech marketers must target both IT and Tech-Involved LOB in order to be effective in their marketing efforts.
Download the research snapshot to discover:
The emotional drivers of Tech-Involved LOB
What content matters most to Tech-Involved LOB
Takeaways for engaging successfully with Tech-Involved LOB
Grab your free snapshot of Influencing the Influencer: Understanding the Tech-Involved Line of Business Decision-Maker by filling out the form on the right.