Explore the Elements of the Tech Purchase Process
The rules of the road to navigate the tech buyer's journey are evolving, so we have created a guide to help you traverse the elements. Using the results of our research across tech decision-makers, this poster provides insight into the technology purchase process – who's involved, how to increase trust, etc. – while highlighting the content types these decision-makers rely on, whether that be webcasts, podcasts or product demos to name a few.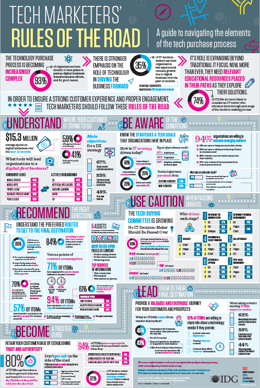 This resource will help you better understand:
Where your customers want to go
The conditions of their tech evaluations and decision making
Who is traveling on the journey with them
How to recommend the right directions (content)
What actions will make you a trusted guide
Fill out the form to the right to get
access to the full infographic poster.