CIOs Advance their Strategic Role

With digital transformation well under way, IT leaders are expanding their business strategy responsibilities, identifying new areas of growth and playing a hand in driving profitability. This executive summary dives into the key findings from CIO's 2019 State of the CIO research to help explain the new roles and initiatives that IT executives are leading.

2020 STATE OF THE CIO RELEASED - CHECK OUT THE LATEST RESULTS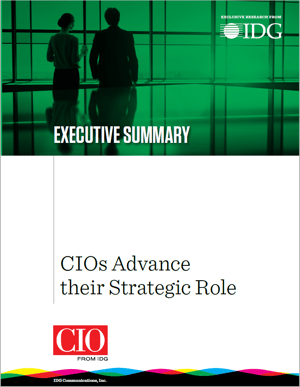 Download the summary to learn:
The top businesses and technology initiatives for 2019 – from an IT and line of business perspective.
How CIOs are currently focusing their time and the anticipate shift in their priorities in the next three years.
The expansion of CIO responsibilities, including the areas of the business they are taking on new projects.
How CIOs expect their technology budget to change in the next 12 months, and their organizations' method for overseeing the budget.


Grab your copy of the CIOs Advance their Strategic Role by filling out the form to the right.