Understand Organizations' Cloud
Computing Plans
Based on IDG's 2018 cloud computing research, this executive summary provides an understanding of organizations' cloud computing plans by outlining the solutions they are moving to the cloud, and which as-a-service models they are likely to move them to. The study reveals that 73% of organizations have at least one application in the cloud, and another 17% plan to do so in the next 12 months.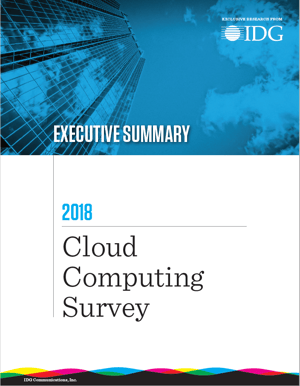 Download the executive summary to learn:

The adoption and spending patterns for cloud computing

How the cloud environment is changing as organizations begin to use a multi cloud approach

The new cloud-focused roles IT decision-makers expect to be created within their organizations

The top challenges associated with cloud computing and how IT departments are addressing their concerns


Download your copy of the 2018 Cloud Computing Executive Summary by filling out the form.
Don't miss the latest version of this research - download the 2020 Cloud Computing Executive Summary here.