Understand How Organizations Evolve to a Digital Business Model

This white paper, based on IDG's 2018 Digital Business research, provides an understanding of organizations' digital transformation plans by outlining the technologies they are adopting and strategies they are implementing to succeed. The study reveals that 89% of organizations have plans to adopt a digital-first business strategy, however only 44% have fully adopted this approach.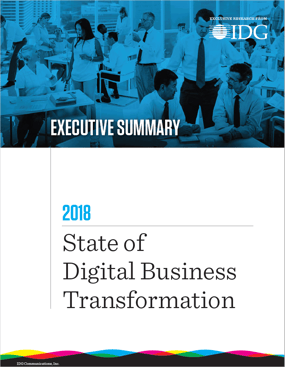 Download the white paper to learn:
How companies are evolving their business through the use of technology to drive revenue and enhance customer experience
What "digital-business" means to tech leaders, and how they hope to gain the most success from it
The top technologies that organizations are researching, have implemented or are piloting in order to become a digital business
How organizations hope to better customer experience in the next 12 months
Grab your copy of the State of Digital Business Transformation by filling out the form to the right.