Learn What's Top of Mind for CIOs in 2018
CIOs struggle to balance operational excellence and innovation, but they have plans to accomplish just that. Centered around CIO's 17th annual "State of the CIO" research, this white paper explores the state of the CIO role in today's business climate and helps to define the CIO's agenda for 2018.
This year's research reveals that 88% of CIOs say their role is becoming more digital and innovation focused and companies of all sizes are speeding ahead on their digital transformation journeys.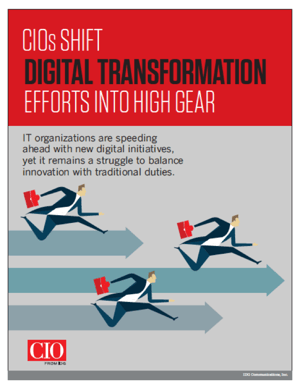 Download the white paper to learn:


How CIOs have shifted their focus to implementing digital transformation

How IT and LOB leaders continue to move torwards a more collaborative working process

Who controls tech budgets and what types of tech purchases are being made


Download your copy of CIOs Shift Digital Transformation Efforts into High Gear by filling out the form to the right.