Missing the benefits from in-person events? IDG's virtual summits allow you to still educate and network with our community of IT & security decision-makers for the ultimate online experience.


IDG's virtual summits combine...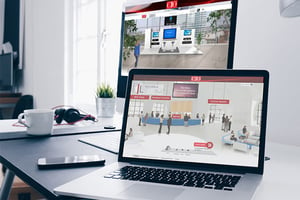 Technology and content expertise
Professional event hosts
First-class recruitment practices
...for the ultimate online experience.
Benefits
Provide engagement with your target audience like a live summit
Generate registrations/ leads using IDG's 1st party insights and targeting
Build loyalty and credibility by leveraging IDG's trusted brands
Upcoming Virtual Tradeshows
There's no IT playbook for what we're experiencing – so we're bringing together the leaders and doers who can help develop one.
Each event will have multiple live days over the duration of the event encouraging repeat visitors and deeper engagement. In addition to the always-on networking throughout the event, sponsors have the opportunity to raise their visibility and thought leadership within the agenda.
The Future of Work Summit
Sustaining the Modern, Digital Workplace | Preventing New Security WFH Threats | Empowering the Employee Experience
Dates: February 16-18, 2021
The Cybersecurity Summit
Securing the Hybrid/Multi-Cloud World | AI & Future of Cybersecurity | Top Cyber Threats & Prevention Practices
Dates: March 16-18, 2021
The Analytics Imperative Summit
Democratizing Analytics | Analytics & the New Risk Landscape | Strategies for Developing & Training AI/ML Apps
Dates: April 13-15, 2021
The IT Recovery & Resilience Summit
Pandemic Lessons Learned | Cloud to the Rescue: Disaster Recovery & Resilience Planning | Business Process & IT Automation
Dates: May 11-13, 2021
The Cloud Summit
Creating a Robust Hybrid/Multi-Cloud Strategy | Lessons Learned from Multi-Cloud Leaders | Governance in Hybrid/Multi-Cloud
Dates: June 15-17, 2021
The Cybersecurity Summit
Securing the Hybrid/Multi-Cloud World | AI & Future of Cybersecurity | Top Cyber Threats & Prevention Practices
Dates: May 11-13, 2021
CIO100
Innovation | Leadership & Strategy | Capitalizing on Emerging Technology
Dates: August 17-19, 2021
The Future of Work Summit
Sustaining the Modern, Digital Workplace | Preventing New Security WFH Threats | Empowering the Employee Experience
Dates: September 21-23, 2021
The Edge Computing Summit
Latest Innovations at the Edge: IoT and more | New Edge Networking: 5G & SD-WAN | Analytics at the Edge
Dates: October 19-21, 2021
CSO50
Security Innovation | Leadership & Strategy | Tech Watch: Hot New Security
Dates: November 16-18, 2021
The Cloud Summit
Creating a Robust Hybrid/Multi-Cloud Strategy | Lessons Learned from Multi-Cloud Leaders | Governance in Hybrid/Multi-Cloud
Dates:December 7-9, 2021
Virtual Roundtables
Most effective way to engage in a two-way conversation with an intimate group of six prospects and customers, recruited by IDG.
60 minute event
FILL OUT THE FORM TO THE RIGHT FOR MORE
INFORMATION ON OUR PARTNERSHIP OPPORTUNITIES
Learn more about partnership opportunities